Ahirnya Dead by Daylight ditanggal 28 Januari 2017 kebeli juga ini game, yang cuman bisa ngintip – ngintip di youtube juga ngintip – ngintip dompet masih ada isi apa enggak hari ini memberanikan diri untuk membelinya.
Yang belum tau Dead by Daylight game ini adalah game dengan gameplay berbeda yang pernah ada game ini mengajak kita ke sebuah pemainan yang menegangkan dengan suasana horor, dalam game ini pemain dapat memilih menjadi pembunuh atau yang bertahan hidup (survivor), kalo kita jadi pembunuh kita seorang diri mencari 4 korban yang mencoba bertahan hidup dan lari dari kita untuk dibunuh begitu juga sebaliknya kalo jadi survivor kita harus lari dan jangan sampai kita tertangkap oleh pemburu.
buat pecinta game – game horor perlu coba game ini cukup seru walaupun gue belum main sih tapi dari youtube sudah bisa membayangkan dan melihat permainannya hehe…
Dead by Daylight LUNAR YEAR SALE is on now!
Don't know what to play this weekend? Dead by Daylight is 30% off starting today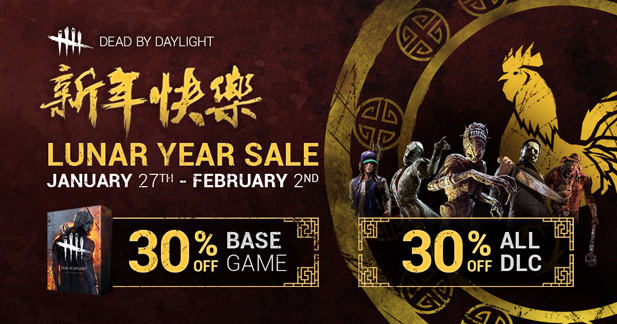 Mumpung di Steam lagi ada diskon harga turun 30% all DLC juga turun 30%, kalo Deluxe Edition yang gue beli ini dapet DLC The Deluxe official soundtrack, digital art book dan two masks for PAYDAY 2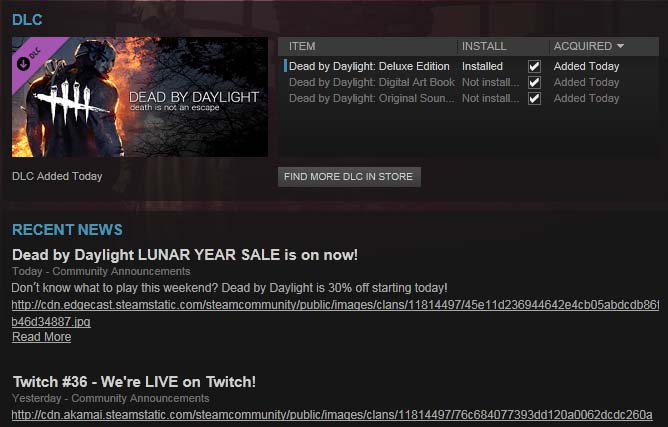 Sudah beli juga belum bisa langsung main ini game karena harus download dulu 4.8 GB lumayan juga lamanya, karena koneksi internet di sini yang kurang bagus jadi kalo download 5GB harus nunggu sekitar 12Jam++ harus sabar menanti kalo mau maen ini game hehe.
kalo ada yang penasaran gameplay nya nanti gue buatin video-nya 🙂
edit 06 Februari 2017 :rekaman iseng jadi TheTrapper di game Dead by Daylight