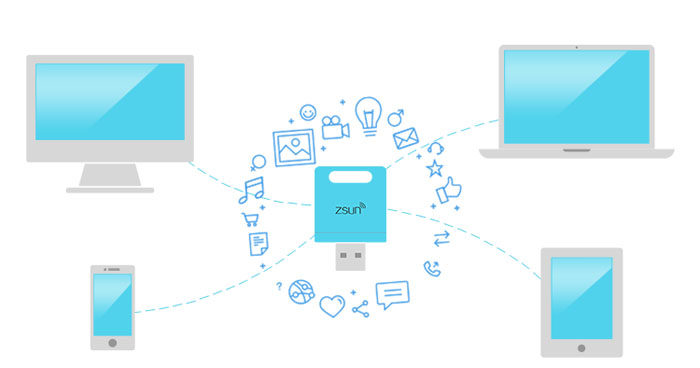 Zsun sedang perjalanan ke rumah nih nggak sabar mau coba dan menikmati teknologi NAS (Network-attached storage) kecil dengan harga murah – meriah, sebenarnya sih nggak butuh – butuh amat untuk mengunakan ini perangkat ini cuman kayaknya seru aja punya dirumah buat di isi film atau musik jadi ketika ada teman datang minta musik atau film tinggal ambil aja atau bisa nonton langsung.
Sebelum beli Zsun kemaren memang sempat browsing – browsing dari e-commerce a sampae e-commerce b demi mendapatkan harga paling murah yang orang jual, harga termurah ditemukan Zsun paling murah di Internet kalo bisa gue bilang yaitu 87.000 nggak percaya ini screenshotnya.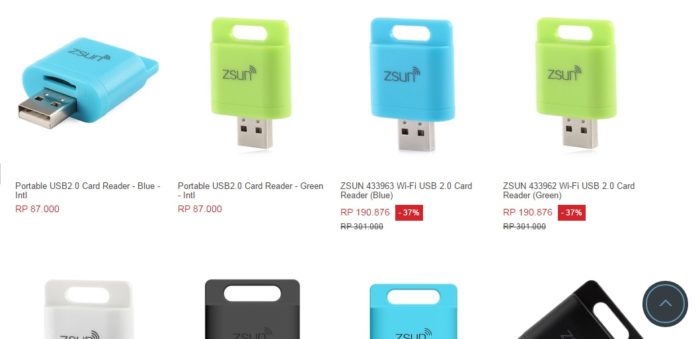 Karena saking murahnya sempet kaget juga, yang bener nih padahal harga dolarnya aja sekitar $12.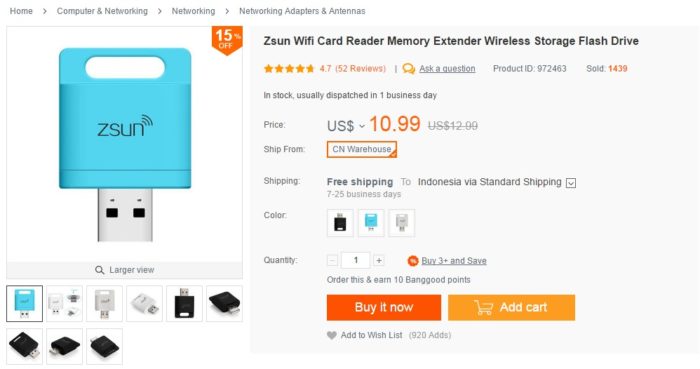 masih penasaran ahirnya mencoba untuk melihat detailnya apakasama dengan yang harga diatanya yang boleh dibilang selisihnya hampir 50rb.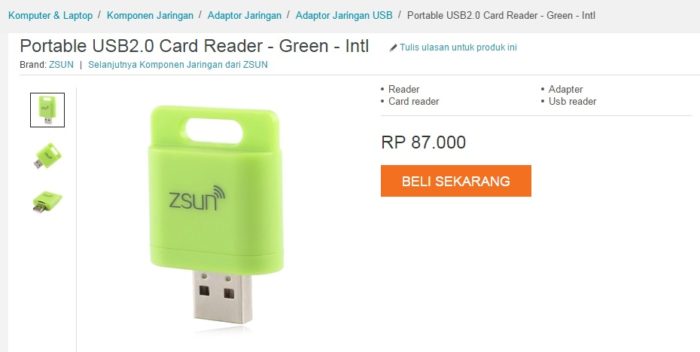 dari bentuk ini sama persis 100% sama tapi coba perhatikan namanya "Detail produk dari Portable USB2.0 Card Reader – Green – Intl"
Weight: 5g Dimensions: 1.93in x 0.79in x 0.47in(4.9cm x 2cm x 1.2cm) Brand: N/A Model: N/A Quantity: 1 Color: Red Material: Plastic Interface Type: USB2.0 Features: Portable and durable Read your data rapidly Support TF card Packing List: 1 x Card Read
Portable USB2.0 Card Reader ternyata ini hanya Card Reader saja, kemaren hampir saja kebeli untung sempat curiga dengan harganya dan penjeasan produknya.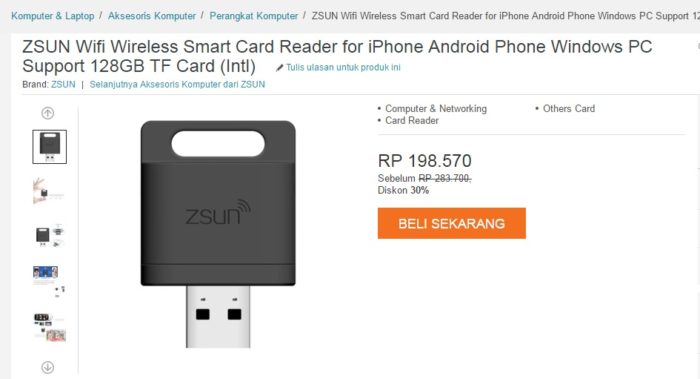 bandingkan dengan ini dan penjelasannya
Detail produk dari ZSUN Wifi Wireless Smart Card Reader for iPhone Android Phone Windows PC Support 128GB TF Card (Intl)
Description
1. Connect directly to the mobile phone
2. Many people share collectively
3. Compatible with iphone IOS system Android Windows
4. Max.128GB TF card support
5. Memery expand/date share/date back up
6. Data share:
Simultaneously between a variety of equipment(the iphone, the android mobile phone and tablet, Windows PC), through the WIFI data sharing and transmission
7. Insert the USB interface of car charger or car DVD, data share
8. Save the photographs video immediately
9. Have mkv, rmvb, flv formats etc. without need conversion forma
Specifications
1. TF card slot: support max 128GB TF card
2. USB port:just put into any USB port with power,it can work
3. LED:show the working state
4. Memery expand: WiFi card reader insert the mobile power supply or computer, WiFi card reader can spontaneously WiFi signal, Mobile phone just connected the WiFi, mobile memery expand,external no WiFi network can also be used
5. System Requirement:
It can be used with PC or Mac computers running Windows 8, Windows 7, Windows Vista, Windows XP, or Mac OS 10.6 or higher. For mobile devices: iOS version 5.0 or higher or Android version 2.3 or higher is required. Kindly Note: A web browser is required for Wi-Fi enabled devices.
Wireless Card Reader lets you store and access your music, videos, photos, and documents wirelessly on multiple devices.
The Wireless Card Reader can connect to up to Eight devices simultaneously, so you can quickly move files between all your mobile devices or share with your friends.
The portable drive requires no Internet connection, cables, or router, so it can travel with you anywhere.
sangat beda ya,
jadi buat yang mau beli barang di Internet apapun itu kita harus teliti juga jangan sampai harga menipu mata lihat penjelasannya dan apa saja fungsi yang bekerja.
NB : lagi ngetik ini info tiba tiba kurir dari bukalapak datang, tandanya barang sudah ada tinggal kita coba hehe… (bersambung)